5 Upgrades for High Fidelity Computer Audio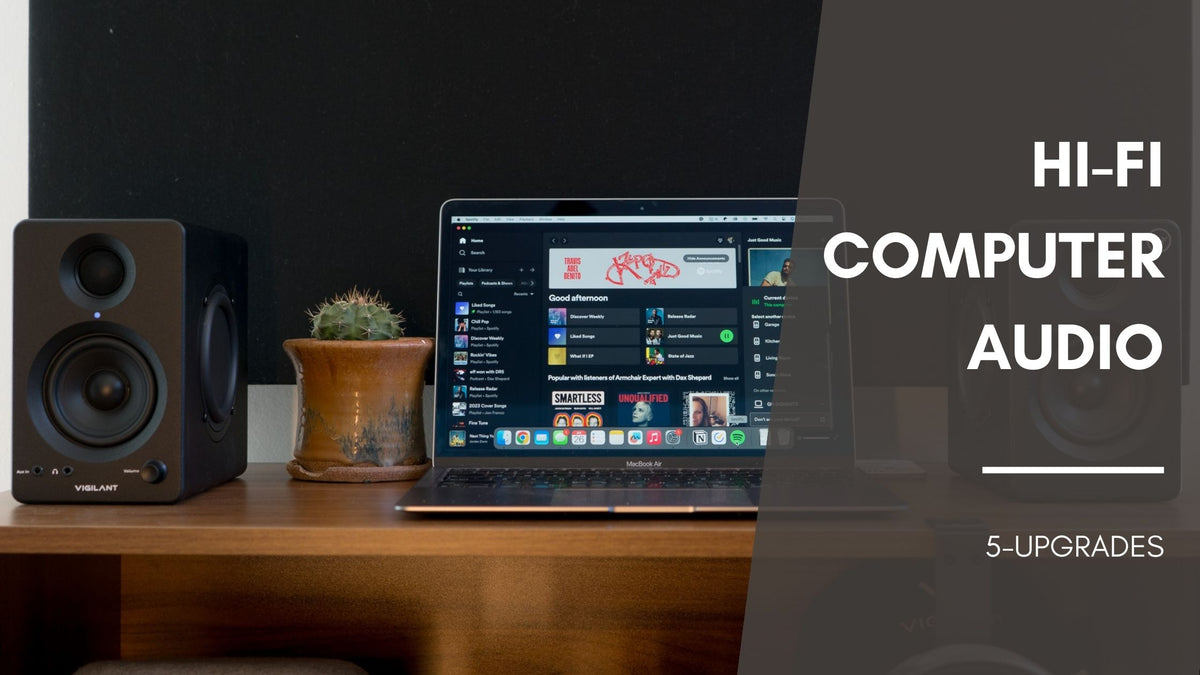 Now that we all have expansive music libraries through streaming services setting up a High Fidelity computer audio system has never been easier. Here are five upgrade for a Hi-Fi Computer Audio system.


#1 Headphones
An essential piece of gear for any enthusiast is headphones. When you're getting a little more serious about your setup its a good time to look into a high-quality pair.
One thing to look into when picking headphones is choosing Open Back vs Closed Back. Open-back headphones will be the most natural sounding, but they wont block out any outside noise so if you're really trying to focus or block out your dogs barking you may want to look for closed back. Some hi-fi audio pureist may look down upon closed back, but lets be realistic. You need something that works for you.
As much as we love wireless, focus on getting a good wired pair. We suggest looking at some brands like Sennheiser or Grado Labs.

#2 Speakers
If you're reading this, you may already know that we make these. The SwitchOne speakers were built to be the ultimate solution for High-Fidelity Computer Audio and Hi-Fi listening.
While some Hi-Fi setups feature massive floor-standing speakers, we are looking at building a versatile high-fidelity computer audio system so a compact set of speakers that are accurate and powerful will do the trick.

#3 The Music Player
The core of any setup will be your music player and library.
If you're going to be streaming we suggest subscribing to something like Tidal Masters. This will ensure you are listening to the highest resolution content on your system. Check out our overview on streaming platforms here.
If you have iTunes and other audio files spread out all over your system you may also want to look at setting up your own media server. Plex Media is a great option for that. We'll do a deep dive into that in another post.
With all of these digital sources adding up (Tidal, Plex, Spotify, and any other streamers) you may want to consider a program like https://audirvana.com/ to bring everything together and provide as one "player". Any combination of these on your computer will leave you quite satasified with your Hi-Fi options.
#4 Room Treatment & Positioning
Even with the best gear, your room can be working against you. We suggested checking out our speaker placement guide to make sure you are setting up in the right place. Also, observe if your room is too reflective. You want it to be fairly dead so your speakers can shine.
Add a rug, add some furniture or look into some room treatments like acoustic panels or even these wood slats.
#5 The Extras
Make your setup convenient, comfortable and personalized.
Buy the proper length cables, if you have a 50 foot aux cable going to your speakers that may make your seutp look messy. Try looking for a shorter option.
Keep your cables clean. Velcro is your best friend.
Get a stand or clip for your headphones or check out the H-Clip here
Add some flair, a plant, a cactus, a figurine. Make it comfortable.
There is nothing quite like disconnecting and listening to your favorite music. If you have the means to have a Hi-Fi setup then you'll appreciate it even more. We hope you can get some tips and tricks on easy upgrade from this list and be well on the route to premium audio.